I finally got the pictures uploaded of the kids Halloween lap books. I got most of the templates/ideas from this site: http://www.homeschoolhelperonline.com/lapbooks/halloween.htm
Here is the cover to Tina's: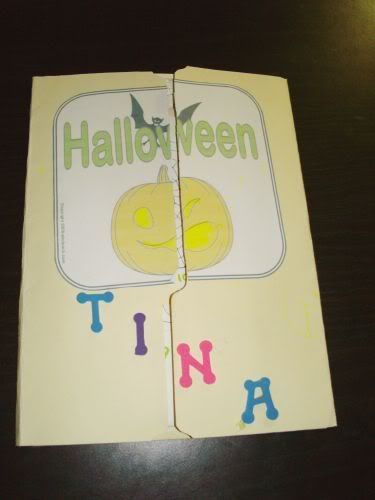 And the cover to Carly's:
I got the cover picture here: http://www.abcteach.com/free/s/signs_halloween.pdf
Here is the inside of Tina's: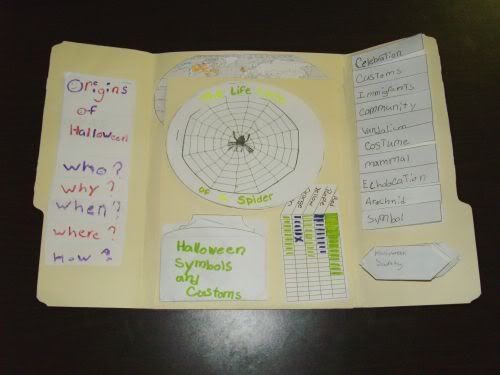 And Carly's: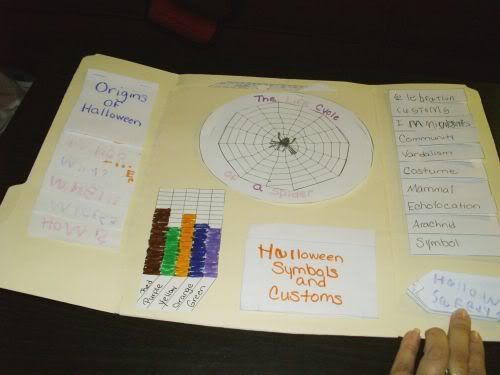 The middle page folds out. On the left is the Origins of Halloween mini-book. It was a graduated book describing who, what, where, when and how Halloween was began. On the right is a Vocabulary mini-book listing different words associated with Halloween. At the bottom on the right is an accordion style mini-book on halloween safety. in the middle is a spider mini-book showing the life cycle of a spider (http://www.kidzone.ws/lw/spiders/ws2.htm). There is a bar graph where they sorted skittles by color and graphed how many there were. Also is a pocket containing the Symbols and Customs of Halloween containing mini-books explaining them.
Now, with the Flap folded out.
Tina's:
Carly's:
In the middle on the top is a world map and they colored in the countries we discussed in this unit. There is also a pumpkin mini-book. Included in this is How Many Kinds of Pumpkins?, Answering questions about them, The Life Cycle of a pumpkin, Pumpkin facts, Emotions Pumpkin Matching Game, and a pumpkin recipe (Tina chose Pumpkin Pie; Carly chose Pumpkin Pudding). On the bottom is Celebrations of the past, life cycle of a bat, and Celebrations of the present.
The pumpkin shape book was found here: http://abcteach.com/MonthtoMonth/October/pumpkin.htm
Here is a picture with Tina's Life Cycle of a Bat opened up:
The life cycle pictures were found here:
http://www.kidzone.ws/animals/bats/ws17.htm
The back of the folder:
Tina's: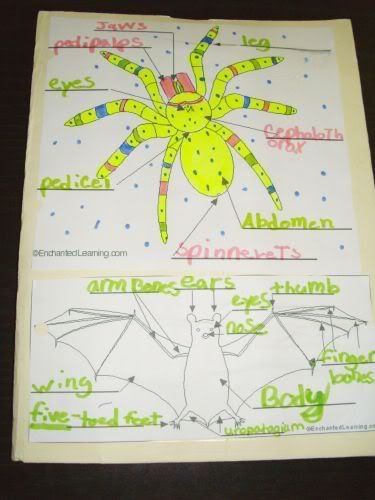 Carly's:
The big twins. of course, had to do one too. So, they made these:
Caitlyn: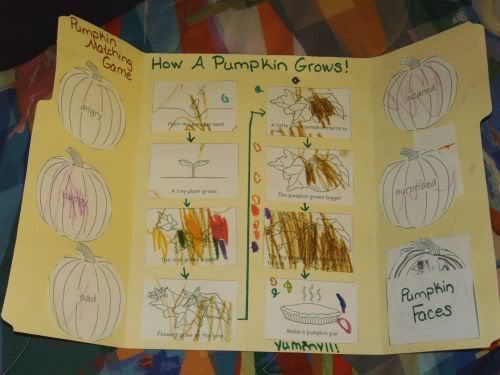 On the two sides is a pumpkin matching game. The pumpkins on the folder have emotions listed on them and the pumpkins in the pocket have faces to match. In the middle is the Life Cycle of a pumpkin.
Charlotte: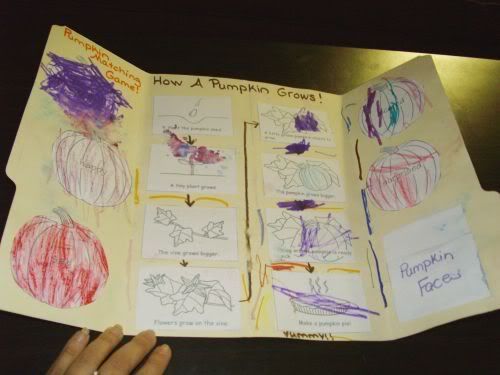 We concluded the unit with mini-pumpkin pies:
Crystina:
Carolyn:
Caitlyn:
Charlotte: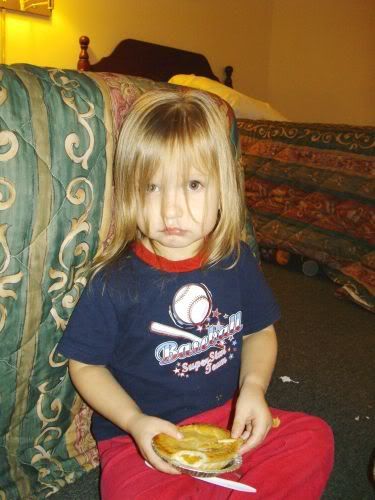 And, even Cheyenne and Courtney enjoyed this part!